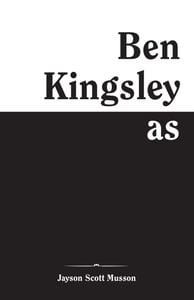 $

10.00
Artist, rapper, and general ne'er-do-well Jayson Musson is back with his second project for Social Malpractice Publishing. In this new volume, "Ben Kingsley as," Musson proposes dozens of imagined scenarios in which racial-chameleon/actor Ben Kingsley transforms himself effortlessly into everything imaginable. Black Twitter? Ben Kingsley can do Black Twitter. Anal sex? Yep. The black obelisk from "2001: A Space Odyssey?" You already know the answer.
Released in a very limited first edition of 200 signed and numbered copies, "Ben Kingsley as" makes a perfect gift for family members who don't understand why entirely white casts in Biblical-era films is even remotely problematic.
Second Edition available now.