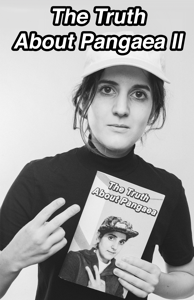 $

10.00
THE TRUTH ABOUT PANGAEA II
by Ana Fabrega
SMP No. 35 | 60 pages, staple-bound | Original edition of 100, numbered and signed SOLD OUT | Second edition currently available
The Truth About Pangaea II continues comedian Ana Fabrega's brutal quest to expose and articulate the hard truths about this damnable planet that we call home. No presumptive certainty is safe from her scathing critiques as she boldly shreds apart what we think we know about our oceans, the shrouded history of the Girl Scouts, the advent of the automobile, "Big Denim," carbohydrates, and social media. Featuring intros, forwards, prefaces, and intros to the preface by notorious dissenters Erin Schwartz and Elizaveta Shneyderman, plus paradigm-shattering illustrations by a who's-who of today's most divisive political satirists, The Truth About Pangaea II will rattle your bones until you beg to have your Woke Card revoked permanently.
Illustrations by:
Margalit Cutler
Thomas John Gamble
Steve Girard
Charlie Hankin
Emily Harrington
Mikey Heller
Lauren Molina
Lorelei Ramirez
Branson Reese
Max Wittert
Sean J Patrick Carney
This is Ana Fabrega's second project with Social Malpractice Publishing.